Home
If You Live with an Ostomy, Get Your Life Back with

The StomaShield Solves the Two Most Common Ostomy Issues:
- Wear Normal Clothes Over your Ostomy Bag
- Wear Seat Belt Safely in Vehicle Over your Ostomy Bag
NEW Easy Fit - ALL 3 Size Shields are included with your order (Small, Medium, and Large)!
Don't worry about accidentally ordering the wrong size. Never have to do an exchange!  
The StomaShield is 3 products in 1

!
1. Stoma Guard

+
2. Ostomy Clothing Solution

+
3. Ostomy Support Belt
Scroll Down to Learn More about the StomaShield

With the StomaShield, we solved the two most annoying problems everyone with an ostomy have in common:
"How will I wear a seat belt safely over my stoma and bag?"
"How will I wear clothes over my stoma and bag?"
Much more than a simple stoma protector... the StomaShield also funnels stoma output down your bag and underneath clothes!
The StomaShield, made by StomaGear, is the best stoma guard for:


ILEOSTOMY, COLOSTOMY, or UROSTOMY. Male or Female. 1-piece or 2-piece ostomy systems

.

Buy today. Ships out within 2 business days! We ship Worldwide!

30 Day Money Back No Questions Asked Guarantee!
Lifetime Warranty on the StomaShield (excludes belt & padding)
The StomaShield Design and Features are Patent Pending
StomaGear, Inc. is FDA Registered (required for any stoma guard manufacturer, see here). To comply with FDA regulations, we Manufacture, Assemble, and Ship the StomaShield stoma guard all at a ISO 13485 FDA compliant facility in Texas!  
Proud to be made in the USA!
The StomaShield is the

ONLY

Stoma Guard to offer all of the following in

ONE

 product:
Only

stoma guard you can sit down with and have your ostomy bag still drain properly

Only

stoma guard with REMOVABLE and ADJUSTABLE padding and elastic belt (for custom fit and easy washing)

Only 

stoma guard with no top padding to interfere with ostomy bag filters

Only 

stoma guard with the above features that can go through a metal detector (airports, concerts, sporting events, secure buildings, etc)

Only 

stoma guard with that includes all available Shield sizes.  No exchanges necessary!  Plus a no hassle 30 Day Money Back Guarantee!

Only 

stoma guard that the manufacturer (StomaGear Inc.) is FDA registered, manufactured and assembled in a FDA registered, ISO 13485 facility right here in the USA.
Click the Order Now button above to place your order securely online, or call

800-681-1584

anytime 24/7 to place your order by phone!
*******************************************
What can the StomaShield do for you if you have an ostomy?
Here are just a few of the benefits of EVERYDAY stoma protection
Car seat belts
Clothing
Work
Hobbies/Sports
Sleeping/Intimacy
Reduce chances of parastomal hernias
Keeps clothing/belt from pinching off ostomy bag
Provides crucial support when ostomy bag gets heavy
Channels stoma output underneath clothing
Wear normal clothes with an ostomy again!
The all in one ostomy bag accessory!
We are confident you will be satisfied with the StomaShield within 30 days ...or we will refund your money back!

"I've had an ileostomy since 2009 (over 10 years of experience!), so I can relate to many of the challenges we face on a daily basis.
I swear by my product because I wear the StomaShield too, all day and all night." 
— Brian Hakel, President/CEO of StomaGear Inc, and Inventor of the StomaShield
Don't just take my word for it! Click on the Testimonial page to
see what our past customers have said and read the latest product reviews from other websites.
*****
To pursue insurance reimbursement after purchase, mention HCPCS (medical billing) Code A4396 to your insurance representative.  
(FYI, StomaGear does not handle insurance claims or reimbursements). More info on the FAQ page. 
New and Improved Features
(Patent Pending)
Channel in the center is made for stoma clearance and allow stoma output to flow down the bag without obstruction.  Shield's proprietary shape is designed to work with nearly all body shapes and sizes as well as one piece or two piece ostomy bags.
New and improved elastic belt.  You asked, we listened.  2" wide plush, non-latex, comfortable elastic with full adjustability using the built-in velcro on the outside of the belt.

Padding strategically placed on outer edges of the shield to not interfere with 2-piece ostomy systems. This design works with all 1 piece and 2 piece ostomy systems. Also, it works great with ostomy bags that have filters!  Some other stoma guards don't take this into consideration with their padding along the top.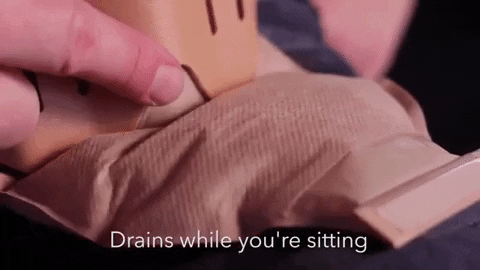 Finally, a stoma guard you can sit down with! The large notch at the bottom prevents the shield from pinching off your ostomy bag as it's draining or full. This allows for your bag contents to still flow down the bag, underneath your clothing waistline and below the shield, even while sitting for long periods of time.  Be leery of competitor products that copied our original design, since they are missing some of the unique / key designs that enhance the performance of the shield. The Stomashield design took years to perfect that was based on numerous interactions with real customers on their feedback (likes and dislikes). After optimizing the design we have heard from thousands of customers on what a great product Stomashield is. We're sure you will be a very satisfied customer as well.  Think of this as not only as stoma protection but as a bridge for your clothing to sit over your ostomy. The ergonomic shape has been meticulously designed to accommodate as many different body shapes and sizes as possible.  Allows nearly a full range of motion, minimal in size, and very discreet under most clothing.   
Very Lightweight.  The lightest stoma guard available, yet strong and durable.
Comfortable and Secure to Wear All Day and Night.  Elastic belt secures the StomaShield in place, yet comfortable to wear all day.  It stretches to move with you throughout the day.  Even all night, too!  Most everyone loves the security of the belt we provide. The belt is also completely adjustable.  Customize the tension to as loose or tight as you prefer.  Low Maintenance: belt and padding are removable and machine washable when necessary.
One Size Does Not Fit All
3 different heights StomaShields INCLUDED to accommodate different stoma locations, whether your stoma is above or below your belt line.  Small (4" tall), Medium (5" tall), and Large (6" tall).  All 3 sizes are 6.5" wide, the only difference is the height of the shield. Included with each StomaShield is THREE different sets of padding. One 12mm thick, 8mm thick, and one 4mm thick.  These are easily removable and machine washable. This helps vary the clearance for long or short stomas.  The tall built in belt slots allow you to rotate the shield along the belt and/or raise or lower the location of the belt along the shield if desired. 
Peace of mind
Use a car seat belt normally and safely while protecting your stoma! No additional equipment.  No need to adjust your clothes and bag when you get in a vehicle.  Very discreet!  Always on, always protected.  Wear the clothes you like, even with a belt snugly against your waist!  Never worry about going to back to work, playing with kids or pets, a long car drive, working in the yard, playing sports, or just some insurance against accidental bumps.
The StomaShield also serves as an excellent ostomy support belt.  No need for those flimsy support belts from the ostomy bag manufacturers.  The StomaShield will sit on top of the ostomy bag and hold it in place when it get's heavy, and keep it secure when moving around.  With this support, you will find that wearing the StomaShield will often help increase the adhesive lifespan of the wafer.
Whether you are young or experienced, and your ostomy is permanent or temporary - you can have peace of mind with the StomaShield made by StomaGear!
30 day satisfaction guaranteed or your money back
As seen in: